Physical Exam Specialist in Bradenton, FL
Regular physical examinations are an essential aspect of preventative medicine and living a long and happy life. You can benefit from this service at PrimeHealth Primary Care with our devoted and compassionate professionals. For more information, please

call us

or request an appointment online. We are conveniently located at

3014 53rd Av East, Bradenton, FL 34203

.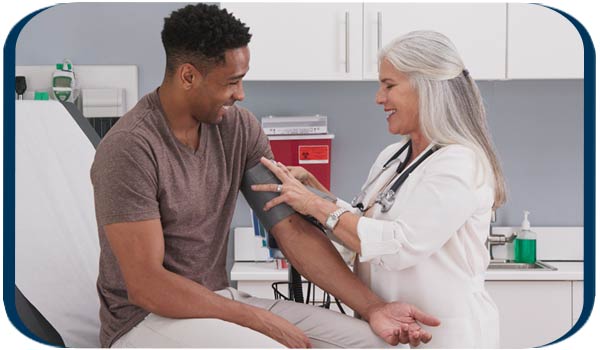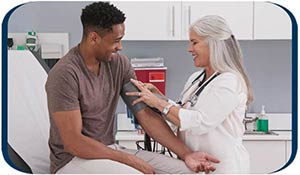 Table of Contents:
What is a physical exam visit?
What is checked during a physical exam?
What are the techniques used in a physical exam?
What are the benefits of a physical exam?
PrimeHealth Primary Care is a clinic located in Bradenton, FL offering many preventative and urgent care services to our wonderful patients. We treat a range of conditions including chronic diseases, acute injuries, illnesses, and more! Our team is dedicated to offering amazing, personalized care for each person who steps into our clinic. One of our best services for preventive care is comprehensive physical exams. Below is everything you may need to know about physical examinations in Bradenton, FL!
What is a physical exam visit?

A physical examination is a routine test regularly performed by our doctors at PrimeHealth Primary Care. Thorough exams take around 30 minutes and will make sure that you are in good health. These types of examinations can be done by a primary care physician, physician's assistant, internist, or nurse practitioner. This is a great time to bring up any concerns or questions you have about your health.  
hat is checked during a physical exam?

During a physical exam your primary care physician will check for the following:
 
– Blood pressure
– Heart rate
– Temperature
– Respiration rate
– Heart health
– Lung health
– Ear, nose, sinus, and eye health
– Abdominal and liver health
– Arm and leg health
– Skin and nail health
– Mental health
– Nerve health
– Muscle strength
– Reflexes
– Prostate health
– Breast and pelvic health
What are the techniques used in a physical exam?

The 4 major techniques used in a physical exam include inspection, percussion, palpation, and auscultation.

– Inspection
Inspection is the first part of a physical examination which simply refers to looking at your body's general appearance. Unhealthy-looking skin, abdominal masses, unhealthy weight, issues walking, rashes, or any other abnormality can indicate to your doctor that you need further testing.
– Percussion
Percussion is a method used by primary care physicians that involve tapping certain body parts with fingers and/or small medical instruments. This special technique tests the health of your lungs, bones, joints, abdomen, and organs.
– Palpation
Palpation is used to examine the size, location, tenderness, consistency, and texture of body parts and organs. This method is done by feeling certain body parts with fingers or hands.
– Auscultation
Auscultation involves listening to the sounds of your lungs, heart, and intestines usually with a stethoscope. Your physician will evaluate the frequency, quality, duration, and intensity of these sounds which can indicate a plethora of different conditions.
 
During your physical exam, your doctor will also ask you a series of questions and potentially order lab tests. Questions to expect include:
 
– Do you have a family history of any chronic conditions or mental illnesses?
– Are you experiencing any symptoms?
– Do you have any preexisting conditions?
– Do you have any allergies?
– What's your exercise regimen?
– Do you have a healthy diet?
– Are you currently on any prescription medications?
 
Laboratory tests such as a complete blood count, chemistry panel, and/or urinalysis may be performed.
What are the benefits of a physical exam?

There are many benefits to regular physical exams at PrimeHealth Primary Care! Benefits of a physical exam include:
 
– Testing for certain diseases and illnesses
– Updating essential immunizations
– Creating a good relationship with a reliable medical professional
– Identifying any conditions that could eventually arise
– Ensuring you have a healthy lifestyle that won't be a threat to your health
– Reducing your risk of getting sick
– Managing existing conditions
– Getting referrals to a specialist
– Increasing lifespan
– Improving your mental and physical health!
 
To schedule an appointment with one of our experienced and supportive physicians, give us a call or request an appointment online. If you have any questions about our annual physical exam services, please don't hesitate to reach out. We would love to answer any questions you have about our clinic and book you in with one of our physicians. Your health and overall well-being are of utmost importance to us at PrimeHealth Primary Care! We serve patients from Bradenton FL, Ellenton FL, Palmetto FL, Rubonia FL, Foxleigh FL, and West Samoset FL.